You Don't Know Breasts
So I'm watching an episode of "Angel" in the store tonight (if that's too geeky replace the word "Angel" with something more universally accepted, like "Full House" or "Golden Girls")… Anyway… This guy walks into the store, looks up at the screen, sees a curvaceous Italian woman busting out of her shirt (on the television – sadly not in the store) and yells (I kid you not – YELLS) "Nice rack!" Then he asks if it's Eva Longoria.
His name is Rocco and alcohol is rolling off his breath – enough for me to get contact-drunk.
Now, I don't know if you keep up with your Us Magazine (or Star Magazine, or People Magazine or ABC's Sunday night prime time line-up), but Eva Longoria isn't exactly
Chesty Larue
. She isn't even
Tits McGee
. In fact, in Hollywood's Silicone-enchanced world of plastic superwomen, she's positively flat-chested.
Let's just compare and contrast
Carole Davis (from the episode of "Angel"):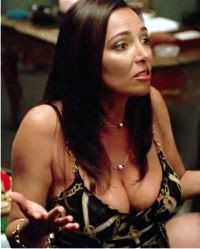 AAAAAAND Now…
Eva Longoria (desperate, house wifey)
I'm not saying Eva isn't super hot (she is) and that she doesn't have a nice chest (she does) but thinking these two women are the same person is just kind of stupid.
No, wait, really stupid. REALLY STUPID.
More as it develops... Pun intended...
Drew