Jose Conseco is my hero
Of all the quotable nonsense that comes through from The Surreal Life into the homes of America
(
"eat a bag of royal fuck, bitch"
or however you like to remember it,
"I was modeling before you grew pubic hair", "Jose was just like Gandhi", "Omarosa looks like Rick James' siamese twin.", "what is mulch?", "Last time I saw a cowboy with that many tattoos I was at a Cher concert","The clown house really should have been a vagina... it was like crawling inside and getting poisoned with the bad estrogen.")
, tonight's episode proved once and for all that Jose Conseco is an absolute genius.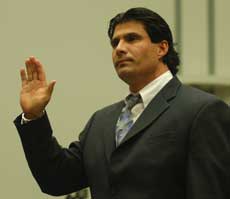 Jose Conseco isn't known to be a man of many words, especially at the Surreal Life dinner table, but one thing is for certain, when Jose opens his mouth out comes gold:
"Everytime I try to help a woman I get incarcerated."
Amen, brother!
Women: can't live with 'em, can't beat 'em.
-Jordan, leader of the Jose Conseco For President Foundation